Raw Power: the story of Gordie Howe.
This week's article about Gordie Howe is brought to you by Iggy Pop.
While the songs written about Gordie Howe are something to be forgotten (two links), his play became so legendary that he not only earned the nickname Mr. Hockey (a title actually previously held by Eddie Shore for you hockey nerds. Apparently, Shore called Howe up and said, "I've had my time with it and now it's your turn." Which is a very high honor coming from someone as eccentric as Shore.) that he also coined the stats of a Gordie Howe hat trick.
A goal, an assist, and kicking someone's ass is considered a complete game. That translates exactly how Mr. Hockey will always be remembered, the most complete player ever to put on a pair of skates.
Now, before you start cracking jokes about this locker room photo. Never forget the infamous Mark Messier photo.
Howe was given a pair of skates during the depression when a neighbor sold a bag of second hand items to his mother. A larger kid with slight dyslexia, skating on the frozen creeks and streams in Canada was an escape from the teasing he would get from the other kids. When he grew out of his skates, Howe would resort to strapping blades to his shoes which was equally embarrassing.
He lived for hockey and while he would do chin ups to build his body (recommended by a doctor since he was malnutritioned), he would grow strong by helping his father with construction work in the summertime. His love for hockey didn't stop even while on the job, though, as he would strip shingles off of roofs and shoot them like pucks.
While he didn't impress the New York Rangers at age 15, the next year he was promised a tryout with the Red Wings as long as some of his friends could attend also. As you can assume, the rest is history.
At age 18, he found himself on the Red Wings' roster and was fighting so much that he earned the nickname, "Mr. Elbows" before he earned the name Mr. Hockey. After three seasons, though, the ambidextrous Howe developed his scoring touch (which allowed him to shoot left and right handed) and finished in the top 5 in scoring for 20 years. I'm assuming the age group that reads this site hasn't even been pooping in the proper place for that long.
It wouldn't be old time hockey without an almost life ending injury and Howe was no exception. After colliding with Ted Kennedy of the Toronto Maple Leafs, Howe went into the boards and crushed his head on the ice… literally. A concussion, fractured skull, a broken cheekbone, and a broken nose were the result, and doctors had to drill a hole in his head to relieve the pressure built up on his brain.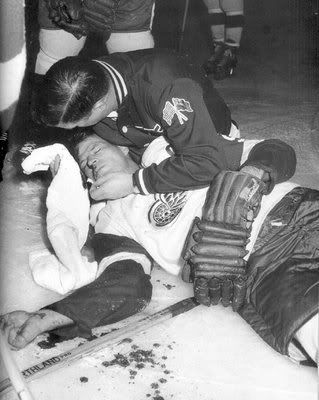 Although he came back the next season, Howe now had a facial tick but still won the league's scoring title.
Around this time, Howe was out bowling one night when he met the love of his life in a girl named Colleen. While Howe was shy and moved back and forth from Canada, they wrote letters and courted when he was in town. It's one of those relationships to be jealous of because they did it right. I won't get too much into it but read the book, "And Howe! an authorized autobiography of Gordie Howe" to read some of the letters they wrote to each other and see them tell it. Colleen Howe is just as much of a story as Gordie. She was the drive and brains behind Number 9.
About two years later, they decided to finally get married.
While Howe was never one to step down from a fight, he cemented his reputation as someone not to be messed with in 1959 when tough guy, Lou Fontinato, decided he was going to bring his goon parade into Detroit.
Let's just say, Howe didn't take kindly to people trying to push their weight around on other people.
While still remaining a dominant force in the NHL, arthritis caught up in Howe's left wrist and he decided it was time to retire.
After two of his sons made it to the WHA for the Houston Aeros, Colleen urged Gordie to make a comeback and play with his sons. If you know anything about Gordie and his family, you know that this was too good to pass up.
When he wasn't scoring goals and elbowing refs, Howe once had to save a son from a fight. While tangled up, Howe skated over to the player and told him that it had been enough. The opposing player didn't take kindly to that so Howe just calmly stuck two of his fingers in the guy's nose and pulled him away. The player had then had enough.
At age 50, Howe was playing for the Hartford Whalers when Scotty Bowman had him play on that year's all star team. Howe received such a long standing ovation that he had to skate to the bench to get the crowd quiet. He recorded an assist in his team's 6-3 victory. Simply amazing.
He would lace them up one more time in 1997 for a game at the age of fucking 60 to complete six decades of playing professional hockey. I don't care if you're playing in midnight beer leagues, that is an incredible achievement.
4 time Stanley Cup champion.
6 time Art Ross winner.
6 decades of professional hockey.
12 time NHL all star.
finished in the top 5 scoring for 20 straight years.
and inducted to 11 hall of fames.
despite all of this, he is known for not only hockey but having the time for everyone he meets, being incredibly respectful and kind hearted, and humble.
His wife Colleen was sadly diagnosed with Picks disease and passed away recently. It's really sad to see such a great strong figure lose his corner stone. Read up on the Howes, they are a truly inspiring story.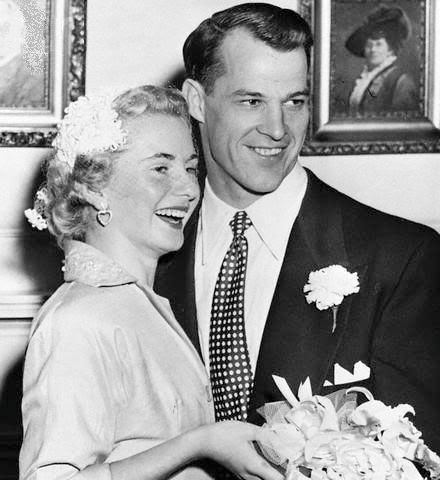 Click here to watch a video on Gordie Howe.